A private company Ukrainian airline was founded as a public company in 1992 and was fully privatized in 2011. Base airport UIA is an international airport "Borispol". The main directions are Ukraine - Western Europe, Ukraine, the Middle East, Ukraine and CIS.
UIA - the first state-owned airline in Ukraine and the country's national carrier. Its weekly planes make around 700 domestic and international flights, and flights connect Ukraine with 40 cities in Europe, CIS, Asia, Middle East and Africa.
With such load there is no surprise that in 2011 the number of passengers reached 2.1 million people. However, it is not only in quantity, but in quality, which earned the title of "Best Airline in Ukraine" in the Ukrainian Association of Journalists, and many travel agencies.
UIA was the first company in the CIS, which commissioned the aircraft "Boeing". This is the only carrier in the region, which fully carries out maintenance of its fleet - in order to make flights safe and secure.
Personal offers
Driven by the desire to find an individual approach to their passengers and provide each customer the best conditions when choosing the flight, the UIA has developed the program "Personal proposal". You have only to choose personalized price offers and discounts on own taste and according to your wishes!
*Note that the discount should place before buying the ticket.
"Birthday"
You birthday soon? Make your cherished dreams! UIA offers 20% discount on a birthday flight and 5 guests who accompany you (when buying a ticket and first departure within +/- 1 month after birth).
"A gift for the anniversary"
Do you celebrate round date? Treat yourself with a trip! Use the "jubilee" discount 25% for you and 20% discount for accompanying hero of the day (when buying a ticket and first departure within +/- 1 month after birth).
"Honeymoon"
Planning a honeymoon? UIA gives the couple a discount of 25% of the fare for tickets within 3 months from the date of marriage and the first flight within 6 months, helping young families fulfill their dreams of traveling.
"A gift for wedding anniversary"
Want to celebrate a wedding anniversary in the city of your dreams? What could be easier! UIA gives discounts to progressive jubilee marriage anniversary from 5% to "wood" to 25% "silver" and other wedding anniversary that is celebrated every 5 years. Flights within 3 months prior to the date of repayment holiday for 3 months.
"Children's Party"
Birthday kids is coming? Go on a trip the whole family! When issued tickets for the family during +/- 1 month from the date of birth (for the purchase of the first flight) a discount of 25% to 33%, which will depend on the direction. The proposal is relevant to families with children from 2 to 11 years old.
"Accumulate discount"
Often traveling? With an accumulating miles loyalty program "Panorama Club", you can save significantly on these flights. UIA guarantees a discount up to 50% depending on the volume of flights.
Best cut prices
Route
Reduced Price (from)
Regular Price (from)
Travel black-out dates
Kiev – Stockholm
-50%
3604 UAH

5569 UAH

-
-35%

4341 UAH

-25%

4832 UAH

Kiev – Amsterdam
-50%
5296 UAH

8490 UAH

-35%

6497 UAH

-25%

7289 UAH

Kiev – Brussels
-50%
5542 UAH

7753 UAH

-
-35%

6770 UAH

-25%

7589 UAH

Kiev – Frankfurt
-50%
3959 UAH

5815 UAH


-
-35%

4505 UAH

-25%

4887 UAH

Kiev – Munich
-50%
4013 UAH

6061 UAH

-35%

4723 UAH

-25%

5187 UAH

Kiev – Berlin
-50%
5433 UAH

6743 UAH

-35%

6579 UAH

-25%

7371 UAH

Kiev – Paris
-50%
5760 UAH

6579 UAH

Only flights operated under PS129/130 code. Exception for outbound: 28 Apr – 3 May 2016; inbound 7-11 May 2016.

-35%

6880 UAH

-25%

7535 UAH

Kiev – Madrid
-50%

5378 UAH

4668 UAH

-
-35%

6088 UAH

-25%

6552 UAH

Kiev – Helsinki
-50%
3959 грн

5842 UAH

-
-35%

4832 грн

-25%

5405 грн

Kiev – Prague
-50%
4259 UAH

7153 UAH


-
-35%

5160 UAH

-25%

5760 UAH

Kiev – Zurich
-50%
6224 UAH

8927 UAH

On Fri, Sat, Sun from 1 Dec 2015 to 31 Mar 2016
-35%

7589 UAH

-25%

8490 UAH

Kiev – Geneva
-50%
4395 UAH

6716 UAH

On Fri, Sat, Sun from 1 Dec 2015 to 31 Mar 2016
-35%

5324 UAH

-25%

5924 UAH

Kiev – Astana
-50%
5706 UAH

11166 UAH

-
-35%

7180 UAH

-25%

8163 UAH

Kiev – Riga
-50%
3112 UAH

5842 UAH

-

-35%

3767 UAH

-25%

4204 UAH
What items of hand luggage may be carried in the cabin UIA?
Economy class passengers UIA may carry in the cabin as hand luggage only 1 bag, which weighs less than 7 kg. Business Class passengers are allowed to carry in the UIA cabin one bag weighing up to 12 kg. Dimensions of hand luggage must not exceed the sum of the measurements 115 cm: 55x40x20 cm.
Additionally, in the cabin of the aircraft, passengers in economy class UIA and business class may carry the following items as hand luggage:
- 1 handbag
- Press for reading in flight
- An umbrella or walking stick
- A small camera or binoculars
- A portable personal computer
- Crutches
How much luggage can be carried free of charge on UIA flights?
In 2012, the UIA has changed the free baggage allowance. Now it uses a single-piece carrier concept. Economy class passengers UIA can carry for free 1 checked baggage whose weight does not exceed 23 kg.
Business Class passengers UIA can to carry for free two things, the weight of each should not exceed 23 kg.
Frequent flyers with the status of Panorama Premium of the frequent flyer program of UIA Panorama can to carry for free a baggage for an additional one item weighing up to 23 kg.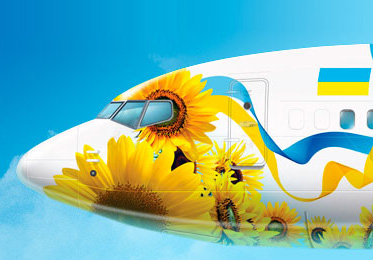 Web Check-in

Information on Web Check-in

Online Baggage Tracing

Car Hire

Hotel Reservations

Insurance

UIA Mobile App for online check-in

Visas to the UAE online

Flights Arrivals & Departures

Book a Transfer
Get more information
here
.
And welcome to Ukraine!