The smallest, most remote and most secluded region of Ukraine. People are not in a hurry, the cafes and shops are empty (it's about visitors), shuttle buses are half-full, Saturday and Sunday in the center - not even a soul. Not like in all the other cities of Ukraine, where everybody rushes somewhere from morning to evening, always looking for something, and the transport is full of passengers.
On the main street of the city there is small and cozy Korzo, which means "place for walking." On this pedestrian street all the cafes and shops are located. And they are in old buildings that were built at the turn of the nineteenth and twentieth centuries. Korzo, Voloshynska Street and Theatre Square are places for walks and rest.
On Korzo you can see the monument to lamplighter. This monument is literally hanging on the wall of the building and from 2010 managed to become the visit card of the city. It is dedicated to lamplighter Uncle Nick (Dyadya Kolya), whohas been doing his job perfectly for decades.
Those interested in architecture, must definitely see the Roman Catholic Church of St. Yuriy and Hasidic synagogue, built in the Moorish style (Philharmonic is located in this building now). Both attractions are located in the center of Uzhgorod. Besides, there are still many beautiful old houses.
On the other side of the river Uzh is a newer part of town is situated. From the center you can get there using a pedestrian bridge. This area has also a lot of interesting old buildings. The most notable of these is large and modern station, built not only with a large scale, but also with taste.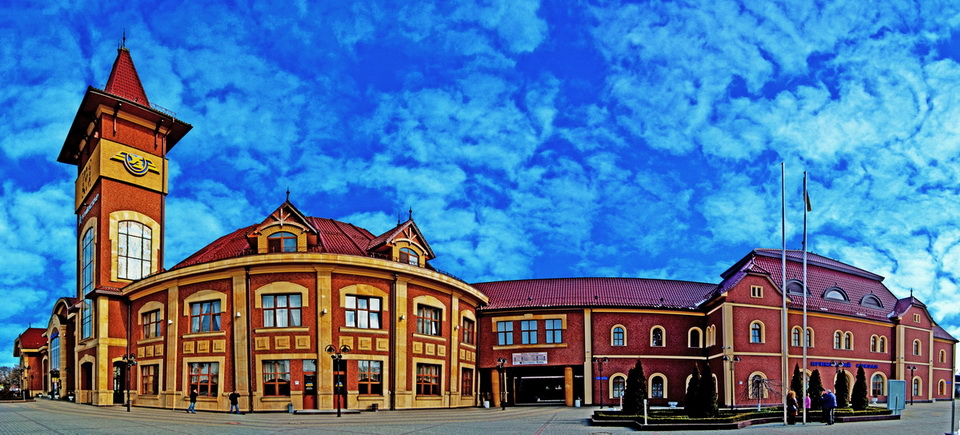 Locals advise to come to Uzhgorod in late April or early May at least once in your life. At this time and it looks pretty impressive in cherry blossoms!