"The truth is in wine" - the Romans assured, and they probably partly were right. It is hard to imagine a summer holiday on the beach without a bottle of drink. The culture of wine consumption was described in entire treatises. No wonder, because the wine is a serious science! A wine tourism is a trend! Today you will see that Ukrainian wine is no worse than overseas.
The profile Wine Research Institute is named after Tairov in Odessa region, in the village Tayirove. And then, in the Odessa area, as well as solar neighboring regions - Kherson and Mykolaiv - there are enterprises, research farms and private wineries, which refer to the manufacture of wine and cherish the culture of its consumption. It is taught there how to distinguish the quality wine from counterfeiting, how to distinguish flavor notes and really enjoy wine tastings. About known and perhaps not even known you wine producers in the south of Ukraine and of the possibilities of wine tours, Ukrainian Travel Blog will tell you in this article.
Wines of Odessa region
Cultural Center of wine "Shabo"
We begin our review with brand of wine and brandy "Shabo". Wine-holding is located in the same town of Belgorod-Dniester region. More than 20 varieties of grapes are grown here for the manufacture of wine and brandy. Shabo village was founded 200 years ago by immigrants of French-Swiss origin, who gave the great tradition of winemaking to this city.
Sparkling wines, classic, aged premium, vermouth, brandy, and brandy - it is not a complete list of products of "Shabo", which has 80 names. It is sold in sufficient quantities to Odessa resorts.
But to get the great feelings of Shabo village you should visit and explore the Wine Culture Center with stored deep underground barrels of noble drink and tastings, which are held in order to increase consumption culture of solar drink.
You will raise the glasses after the tour. A visit to this ancient Heresnomu in the basement, where a dry sherry is held; Inspect a giant repository at a depth of 5 and 9 meters underground; stroll through the maze, where ancient myths about wine revive. You will be shown the production of this noble beverage: the company says that it has no secrets from consumers. You can get to the Cognac court and Champagne house. And also take a look of the extraordinary fountain of Dionysus.
Getting there: wine culture center "Shabo" is located 70 km from Odessa and 5 km from Zatoka. You can get a bus. There are organized tours.
Open: tours are at 10:00, 13:00, 16:00, advised to purchase tickets in advance.
Price:
Basic Tour (1.5 hours) without tasting - 130 UAH
With tasting - 180 UAH;
VIP - 2,5 hours (without tasting) - 240 UAH
With tasting product premium - 490 UAH.
"French Boulevard"
Brand "French Boulevard" of PJSC "Odesavinprom" dates back to 1857, when the French merchant laid the wineries in Odessa, and from 1902 a French boulevard emerged, which is now a part of office and production.
Wine classic, young wine, brandy, champagne, which is a special proud of the brand - this line of enterprise. If it is a wine boutique, which will offer a tasting of wines not only of TM "French Boulevard", but a relatively new brand "wines Guliev", "French", wines from France and Italy.
Getting there: wine boutique is located in Odessa, French Boulevard, 10.
Ukrainian wine prices are lower than abroad, and the quality does not often inferior to them.
Cost: tasting - about 300 UAH and up (depending on the program), but you can arrange an impromptu tasting - taste what you want (for a fee).
Hours
: time tasting tours must be specified in the organizers (or
contact Ukrainian Travel Blog
+380 63 592 61 08 and I will give you all information).



Odessa cognac factory "Shustov"
Cognac house "Shustov" also reveals some of its secrets. At the enterprise the museum there are conducted tours and tasting tours. Name of the brand is a name of the founder of the cognac house. Nikolai Shustov in the 19th century actually organized his own production and has learned how to do "French vodka" - as they called cognac, which, according to historical data, was first delievred to the Russian Empire from the ports of Odessa.
The museum of cognac is full of exhibitions, where you will learn about the history of wine and distilling spirits; secrets of aging of cognac; history of the plant and TM "Shustov". In conclusion - tasting cognacs.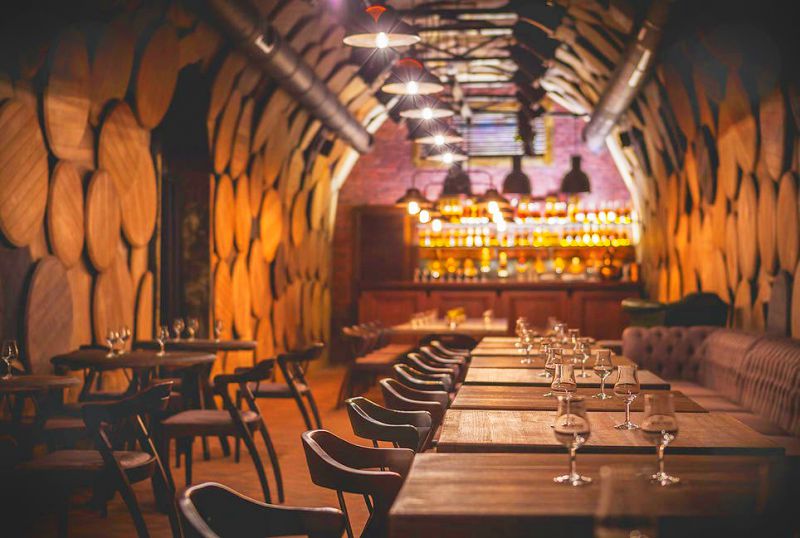 Getting there: The museum "Shustov" is in Odessa on the street Melnitskaya, 13.
You can use the bus number 201 or bus number 14 from the railway station.
Hours: you have to sign up for a tour in advance at the museum website.
Price:
Classic tasting tour - 180 UAH;
Tasting from 250 to 580 UAH (older cognacs are more expensive, there is even an offer to taste 40-year-old cognac).
Winery "Colonist"
Another new brand of Southern Bessarabia - "Colonist" (LLC "Veles"). The former Minister of Fuel and Energy Ivan Plachkov in 2005 opened a family winery in the village Krynychne of Bolgrad district. And he swung immediately to premium wines.
Special attention is given to dry wines, they also produce sweet and semi-sweet. Production is small - 140 thousand bottles a year, but wine "Colonist", despite its young age, is rated by sommeliers. Winery "Colonist" is open to the public, and has tasting tours, vineyards tour, wine shops and cellars. In addition, there are dinners with Bulgarian foods, there is also a company wine store "Colonist".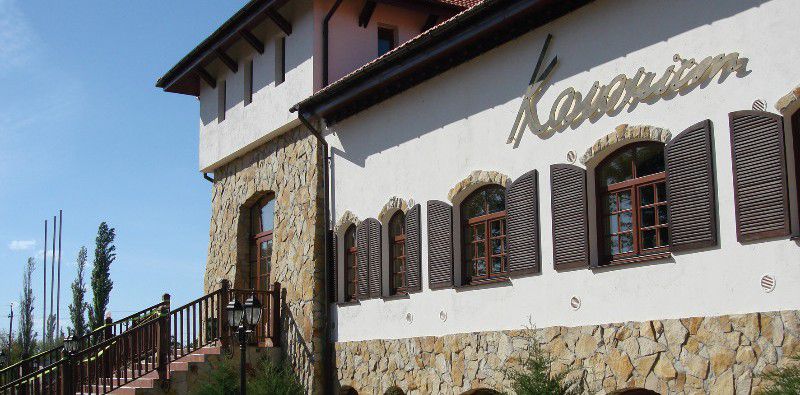 How to get: from Odessa in the village Krynychne you can get by bus Odessa - Odessa or Bolgrad - Izmail.
You can also get bus from Bolgrad and Ismail.
Hours: wine tavern "Colonist" is open Monday to Friday from 10:00 to 17:00, shop - 18:00.
Cost: specify the organizers site (or contact Ukrainian Travel Blog).
Wines of Mykolaiv region
"Koblevo"
To begin examination of Mykolayiv region wines we will start from with the most famous brand - winery "Koblevo" ( "Bayadera groups").
In the village Koblevo there are vineyards and production of wine and brandy. So today it is a hyped Black Sea resort. It is suitable for both young noisy people and for a quiet family holiday in the Ukrainian village resort area.
Resting in Koblevo, you, of course, will try the local wine right where it is made. Natural dry wines, sweet, semi-sweet, exclusive cognacs - everything is presented in TM "Koblevo".
JSC «Koblevo" offers tasting tours with an excursion to the production where you will be opened the secrets of wine.
How to get: from Odessa to Koblevo you can get by bus; travel time - just over an hour.
Hours: Tours are conducted Monday through Friday from 10:00 to 12:00 and 14:00 to 16:00 by appointment.
Cost:
Classic tasting - 75 UAH
VIP tasting - 150 UAH.
Wines of Kherson region
House of vintage cognacs "Tavria"
It gained almost centenary experience of producing of cognac. Now it is represented by a few brands "Tavria", "Borisfen», Jatone, AleXX. It was also recently engaged in the production of authentic eco-wines of TM Askania. Grapes grown here in hot steppes of Askania-Nova uses a drip irrigation technology.
House of vintage cognacs "Tavria" offers 4 different tasting excursion tours, cognac, wine, brandy and wine. You will visit the museum and the company, which serves as the starting point for excursions to vineyards and production. You will be told about the intricacies of etiquette cognac.
Getting there: from Kherson to New Kakhovka there are plenty of buses.
Hours: check with the department of public enterprises.
Price: from 105 UAH (wine tasting) to 340 UAH - VIP.

Going on vacation, look also the town of wine tourism - as you can see, a lot of them are located in southern Ukraine. Taste and drink slowly, so you better feel the taste of life! Drink and remember who produced it - Treat your friends with a good wine.